Through the years, Friends of Broadway Kids Academy have asked us how they can help us fulfill our mission of "Making Kid's Dreams Come True!" Since we began serving the children in the Las Vegas Valley in 2006 we have happily always tried to help kids attend Broadway Kids Academy, even when they could not afford it. With recent events, the need for assistance has become even greater now.
If you are able to help, you can contact Ms. Barbara in our Billing Department and she can assist you.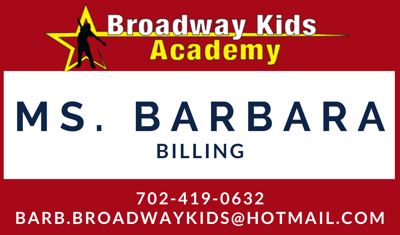 If you would like to make a tax-deductible donation, you can do so by mailing a check.
Make Checks Payable To
1150 FOUNDATION
Memo: Broadway Kids Academy
Please Mail Checks To
Broadway Kids Academy
1970 Oakwood Station Ct.
Henderson, Nevada 89012